Proyectos Para un Futuro Mejor
At a Glance
Population of State: 3.8 million
Number of indigenous languages: 16
Indigenous population: 48%
Population living in extreme poverty: 23%
Mission with a Long-Term Vision: Our mission is to provide for agricultural and other rural projects in order to develop a more sustainable economy for those currently living in poverty, with the hope that young people growing up in rural areas can maintain strong communities through better economic opportunity
Why Oaxaca?
There are many people in the world that are deserving of assistance and support. The state of Oaxaca has a rich, diverse cultural heritage and a proud tradition of toughness and determination among its people. The farmers of Oaxaca live simple lives with simple hopes: to be able to work, support their families and build a future for their children. From Hans' first visit to the area in 1993 it was an easy choice for the Vatheuer family to give their time and energy to the people of Oaxaca.
Formula for Success
VFF believes in supporting projects like Proyectos with steady and dependable aid that is based on mutual understanding and respect. Too many development projects come and go with limited resources and unrealistic timelines. Continuity is the cornerstone of VFF's commitment to its partners in developing areas. VFF focuses on delivering long-term, sustainable results by working closely with the people and responding to their ideas and needs. Direct and ongoing collaboration with program participants is key to delivering the help that is actually needed.
Apples
We began coordinating the planting of Apple trees in 1995 in two mountain communities. Finding varieties that could withstand the year-round temperate climate of Oaxaca was challenging. Three varieties from the Middle East were identified as the best potential candidates. The program grew rapidly to include 12 communities, and a full-time agricultural engineer was hired in 2013, as we were outgrowing our capacity to provide the technical assistance required to maintain the optimal health and production of the orchards.
In 2014 we began the planning for five demonstration orchards. Each orchard will have a minimum of 500 trees, which is approximately the number of trees needed per family to support a sustainable income. These orchards will host two newer, more promising varieties of apples on dwarf rootstocks and will host differing pruning and watering techniques within different elevations and micro-climates in an attempt to identify best practices by location.
Peaches
It wasn't long before we realized the potential of growing peach trees in the mountain communities. Peaches already existed in established orchards north of Oaxaca near Puebla and provide for a faster return on investment than apples, as they begin producing fruit the second year after planting.
By the end of 2014, we have 165 participants in 12 communities with a combined total of 11,500 apple trees and 32,000 peach trees. These trees together can produce 543,750 kg. of fruit, or 600 tons.
Why apples and peaches?
In the last 20 years, the city of Oaxaca has grown tremendously in population and is rapidly modernizing. While apples and peaches have traditionally existed in the local markets and grocery outlets, they have been expensive and not of the highest quality, due to their importation from other areas. Growing these fruits locally can provide all consumer outlets better quality, lower prices, and the knowledge that local communities are benefitting from their sales. Also, these fruits, which traditionally are grown in colder, more temperate regions of the world, have the added marketability of ripening at different times of the year than their imported equivalents.
Other Agricultural Products and Practices
We have experimented with many ideas, if not for commercial viability, then at least for the immediate consumable benefit of the participants in our programs. These products have had varied results, and include a wide range of vegetables, mushrooms, berries, cover crops and raising rabbits. We have experimented with composting programs and building greenhouses, raised beds and hutches to see what the needs and interests of the communities are.
The year 2014 marks our first mushroom workshop, where we will be introducing the consumable and commercial benefits to a number of participants. They will learn how to propagate several nutritional and valuable mushroom species. We are very excited to be partnering with Micologica, a local mushroom production company, to properly begin a program that has been in the works for almost a decade!
Among our goals for 2015 is to identify other fruit crops of value, besides other varieties of apples and peaches. These may include plum, apricot, cherry, avocado, and other exotics. We will also begin a berry program that will focus on blueberries, strawberries, raspberries and blackberries.
Frutos de la Mixteca works closely with Proyectos to coordinate programs that increase the quality and quantity of fruit from the producers. The company also works actively in Oaxaca and throughout Mexico to increase the market for locally-produced, high-quality, healthy fruit products. Frutos de la Mixteca is registered as a for-profit entity known as a Social Rural Society [Sociedad de Producción Rural] that is specifically designed to help develop rural activities in Mexico. The goal for all Proyectos participants is to find the path to sustainable economic activity that best suits them, their families and communities. To this end, Frutos provides the business infrastructure to process their products into higher-level consumables, increase market share and develop an awareness of the rich local culinary and cultural diversity to be found in Oaxacan agricultural production.
The apple production market in Mexico is developing and producing products at an increasing rate, with variable quality and quantity. Stemilt Growers offered an opportunity for a small group of Proyectos participants to travel to Washington to temporarily work and learn modern apple farming techniques in their central Washington orchards. Stemilt is a family-owned fruit company that's been in business since 1964. The Mathison family owns and operates Stemilt Growers, and proudly grows, packs, and ships the best apples, pears, cherries, and summer fruits. They are one of the leading apple farming companies both in Washington State and the United States.
The farmers visit Stemilt after completing an exhaustive US government process to be issued an H-2A visa. This allows them entry into the U.S. for temporary or seasonal agricultural work. We work together with Stemilt to select workers who are legal and eager to work and learn in a safe environment with the support of an ethical company that has its workers best interests in mind.
We have partnered with a Oaxaca-based microfinance organization that administers microloans, business and financial education through socially responsible tourism. En Via began in 2008 with the idea that tourism and philanthropy could work together to improve people's lives. They host tourists on philanthropic visits to Oaxaca where they interact with En Via projects and participants who are funded by their visits.
Proyectos began an emergency microloan program in early 2014 supporting agricultural needs created by events beyond the participants' control (hail, frost, drought etc.). Proyectos began a partnership with En Via in order to supplement the immediate equipment/materials needs of our participants with skills needed for long-term success in business and finance.
While the agricultural needs for financing differ greatly among our participants as compared with those currently being served by En Via, together we are developing a new program that will be targeted to their unique microloan needs. Currently, En Via participants are given business education training (6 one-hour sessions) before they receive any loan money and then are walked through a stepped-loan program of increasing amounts. They must form support groups of three persons, whereby the individual and the group are held responsible for repayments and meeting attendance with En Via staff once a week. The first-round loan is $1,500 pesos and must be repaid over a 10 or 15 week period. The second and third-round loans are $2,500 and $3,500 pesos respectively and the terms are developed in cooperation with En Via staff. All of these loans are interest free.
If participants go on to seek additional loans they are placed in an interest bearing program and are allowed to borrow up to $6,000 pesos. Charging interest serves the dual purposes of slowly introducing participants to principles of finance they would face if looking for a larger loan from a financial institution later and helping En Via slowly grow the loan fund.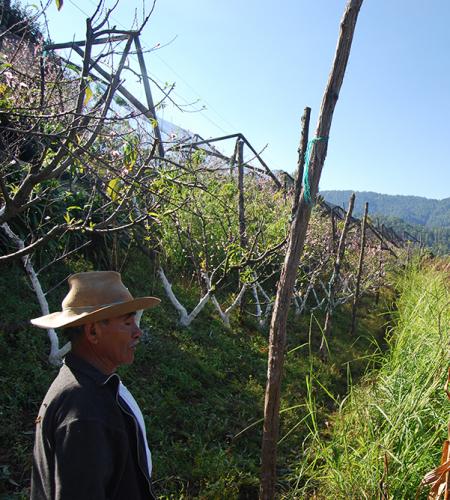 Proyectos Para un Futuro Mejor is building the skills of the future generation of participants by awarding scholarships for study in universities in the state of Oaxaca. The goal of these scholarship awards is to encourage young men and women from the rural communities to obtain a degree in agriculture or some other field directly related to the prosperity of the communities. Such a collegiate degree will benefit the individual, their community, Proyectos, and will serve as a connection between isolated, underserved communities and vital resources and knowledge regionally and globally.
In order to ensure the long term success of Proyectos' work in indigenous communities, it is important to support young men and women from these communities in education. They are the ones who are best able to continue work on the current programs and develop future initiatives. They know the people, the culture and speak the same languages. They will be the ones helping to ensure the success of the communities and developing long-term self-sufficiency.
Applicants are required to have finished high school, have a good academic record, good standing in their community and fill out an extensive application, maintain good grades and perform work and community service during and after the study period.
For applicants meeting the initial criteria, Proyectos supports tutoring for the entrance exam and the cost of taking the exam. For those subsequently chosen to receive the scholarship, Proyectos pays room and board and full tuition for the entire period of study.
In 2015, we will investigate other scholarship opportunities in the local area. These may include academic degrees in other fields such as medical, business and engineering. We will also look into trade school certifications in areas such as refrigeration and mechanics.